The Cliffs of Moher are one of the most popular places for eloping in Ireland for lots of great reasons.
Why have a Cliffs of Moher Elopement?
1. They are Stunning.
The Cliffs of Moher really are gorgeous. Nine miles of sea cliffs on the Atlantic Ocean. There is a path along the edge where
you can walk the whole way. It takes over 4 hours to do this, but it has to be one of the most beautiful walks in Ireland.
Yes, we have done it several times and no, it's not really scary unless you are afraid of heights!
I wouldn't recommend it on a stormy day though, safety first!
The Cliffs make an awesome backdrop for your Ireland elopement photos and film. We will capture the drama and romance of your day. Click here to take a look at a recent elopement on the Cliffs.
2. They are very Accessible.
The Cliffs are accessible for everyone as there is a car park across from the main entrance where there is a large visitor center and café.
There are Public restrooms with wheelchair access and paved paths up to the Cliffs from here.
There is a shuttle bus service that now operates around the cliffs for the summer months.
The Cliffs of Moher Shuttle operates 8 times daily during June, July and August and provides direct services between Ennistymon, Lahinch, Liscannor, Doolin,
Lisdoonvarna and the Cliffs of Moher Visitor Experience and Cliffs of Moher Coastal Walk. Making it even easier to get around.
3. You can Legally get Married here.
You can legally marry here at Moher Tower. This is a massive advantage, not everywhere outdoors allows for legal ceremonies.
There are restrictions in Ireland about the locations of legal ceremonies.
We use private property access for your cliffs of Moher elopement. For a small fee you are then guaranteed complete privacy.
There is also shelter in the event of rain.
Another option is a hotel venue that caters for larger weddings and provide an excellent service and again we can arrange this for you.
There is also the option of an Irish pub reception after your ceremony for you and your guests to wind down and celebrate the day.
4. Other stunning scenic locations nearby.
The Cliffs are situated in County Clare beside the Burren. The Burren is a very unique landscape and a protected area.
The Burren and Cliffs of Moher was awarded membership of the UNESCO Global Geoparks Network in 2011.
It's a great place for Hiking and adding another MORE stunning photography locations to your day.
You can also legally marry in the Burren in an Ancient ruin – Corcomroe Abbey, a great venue for your destination wedding to Ireland. Then we arrange a photoshoot on the Cliffs after.
If you would prefer an small indoor venue , there is an ancient round tower that is available about 40 minutes from the Cliffs, where you can legally marry and then we take you to the Cliffs for a photo shoot.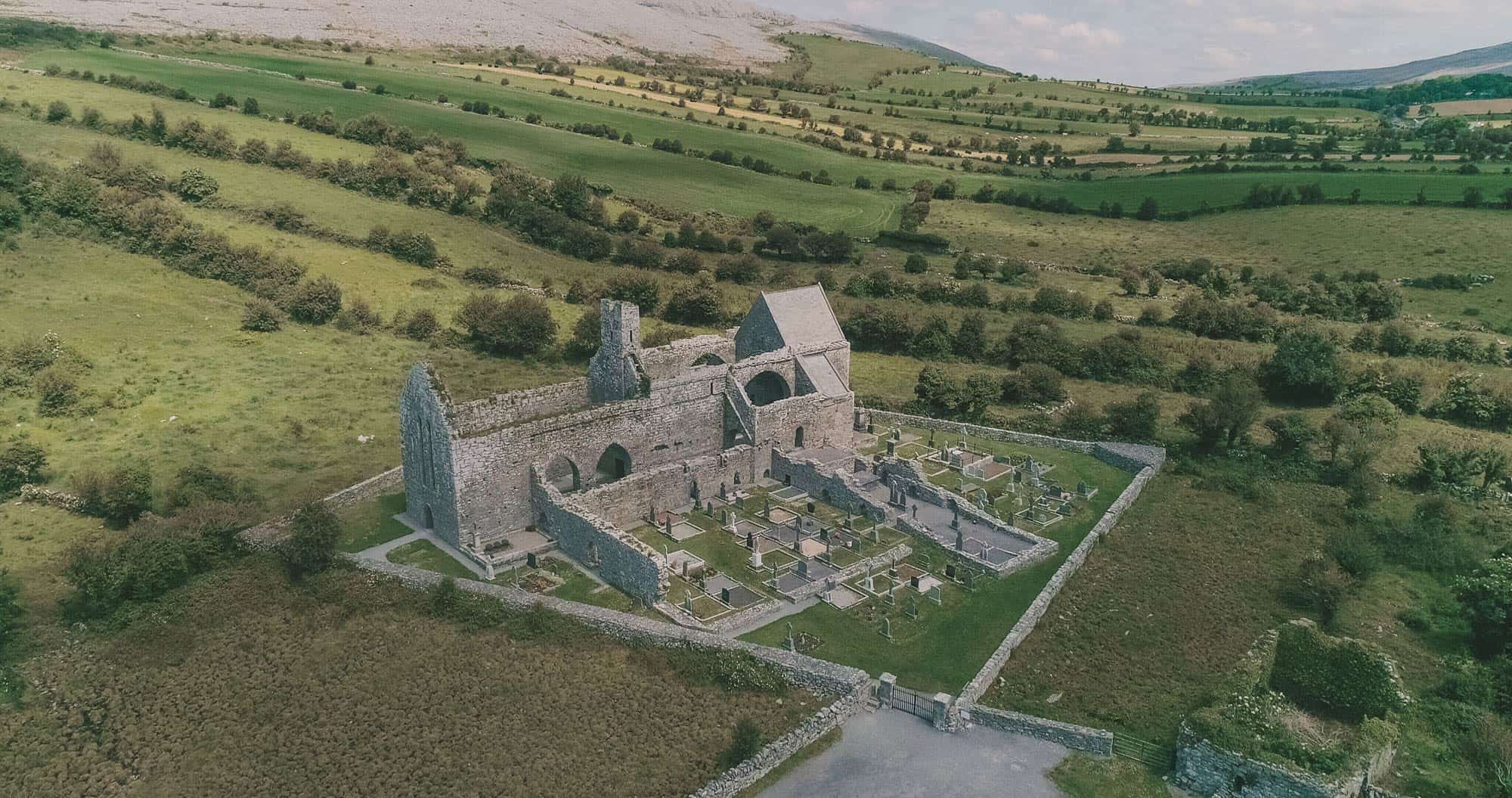 5. Quaint Villages Close by.
Nearby villages Liscannor, Doolin and Lahinch are gorgeous Irish towns with a holiday feel. They are a popular spot for surfing and tourists. There are some really great Irish pubs that serve bar food, often have live trad music and a party atmosphere. The people are friendly and welcoming.
There are also loads of great AIR BNB's in and around these towns and the Cliffs. You can stay in a charming Irish cottage or a modern bungalow with sweeping views of the coast. There are also some top class hotels and manor homes in the locale too, if that's your preference.
We can help you with recommendations for you and any guests you decide to bring along, on where to stay, eat and party! We guarantee you will have an amazing time.
We want you to have the most amazing experience when eloping in Ireland and so we have combined our expertise and knowledge to make sure you get the best when you elope to Ireland with us.
We recommend and co-ordinate all your vendors. We provide our own celebrant and together with you create a customized ceremony.
We provide our own photographer and videographer to guarantee that consistent style and quality of work.
We can recommend the best places to eat and party, the perfect places to stay and loads of stuff to do and see for your destination wedding in Ireland.
If you have any questions you can email me directly at [email protected], I would love to hear from you.
Contact us and have an intimate, stress free wedding with memories to last a lifetime. Elope to Ireland with Twin Flames Elopements!